Official Event USA Tailgate Party & VIP Tailgate Party
With 2 different tailgate party options to choose from, Event USA has your pre-game needs handled!
Whether you go VIP or keep it traditional, our Fan Tailgate Party includes an "all-you-can-eat" buffet of traditional Wisconsin "tailgate party" fare! Chow down to your heart's (and belly's) content before you pull out your Tickets and enter Lambeau.
Starting 3 hours before kickoff, it's held outdoors just blocks from historic Lambeau Field.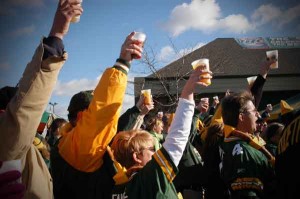 Traditional Tailgate Party
Enjoy unlimited food
Drink unlimited beverages
Musical entertainment including traditional Packers favorite songs to get you ready for the big game
Special Children's admission – Kids 12 and under get a special souvenir!
An alumni player to greet fans with autographs available for purchase during regular season games ONLY.
Live radio broadcast
Prizes, special promotions and other celebrity appearances
VIP Tailgate Party
Our Vip Party will have the same features as the Traditional but will also offer the following:
Many additional food choices with a wide variety of delectable offerings specialized for each game
Full open Bar with rail brands
Craft beers
Both indoor and outdoor party space, with high top tables in the indoor space
Large screen TV's and screen's with projectors to watch pre-game programming
Access to indoor restrooms
There is no better way to kick-off an exciting day of football then by attending our Tailgate! The Party begins 3 hours before kickoff and ends 30 minutes before kickoff.
Purchase the Tailgate
The Traditional Official Event USA Tailgate Party is included in our Silver, Bronze and Ticket & Tailgate home game packages. You can also upgrade to our VIP Tailgate when ordering.
Our Gold Packages includes our upgraded VIP Tailgate.
Grab your spot!
It's also available for separate purchase!
Traditional: $/adult or $ for child 12 & under (Regular) – Pricing coming soon
VIP: $/adult or $ Children (12 and under) – Pricing coming soon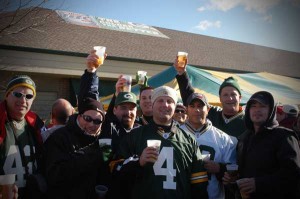 Purchase Traditional Tailgate Party Purchase VIP Tailgate Party


Custom Pre- and Post-Game Parties Available, Too!
Indoor Private Parties for groups of 20-200 people
Outdoor Private Parties for groups up to 500 people
Special VIP Parking at Tailgate Site
Other Group and Corporate Entertaining (Click here for more info)