Lambeau Field Seating Information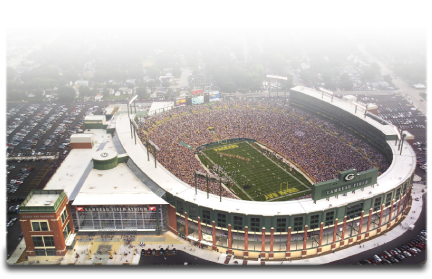 The crown jewel of the National Football League, Lambeau Field is a year-round destination venue to be enjoyed by Packers fans in a variety of ways.
Year after year, it consistently tops the lists of the best and worst stadiums in the NFL. USA Today Sports even says Lambeau is the only one that would appear on a sports bucket list.
After undergoing a a series of renovations that added a host of new amenities and attractions, Lambeau has truly become the all-seasons entertainment center of Green Bay—its capacity is just 25,000 seats shy of the city!
Lambeau Field Seating Views
To help you select your seating location at Lambeau Field in Green Bay, we have views from different outdoor seating categories, as well as from the skyboxes and club seats.
Check out our Interactive Seating Map which will help you find your seat and show you a representative photo of what your seat might look like!
Lambeau Field Seating Descriptions
There are almost 80,000 seats at the "new" Lambeau Field. These can be grouped into several types of seating, described as follows: