Event USA Family Night Funfest Package
Starting in 2000, the Green Bay Packers have held an annual Family Night team event at Lambeau Field shortly after training camp begins. It's a great family and wallet friendly way to "preview" the team.
This year's family night is Sunday, July 31.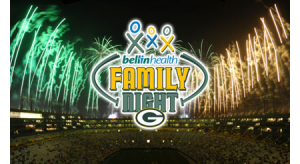 Funfest Packages Include:
Green Bay Packers Family Night Ticket
(with choice of seating options)
Ticket Lanyard
Valuable Coupon Booklet for Free & Discounted Food/Beverages
$25 Discount Coupon from The Vault
Additional options/upgrades:
Upgraded Packers ticket seating available (including sidelines, skyboxes & club seats)
Custom Hotel Accommodations
Family Night Funfest Package Pricing
End Zone
Endline
to 20 Yd.
20-30 Yd.
30-40 Yd.
Indoor
Club
Skybox
7/31 - Family Night Package
$29
$34
$39
$49
$49
$59
CALL
Need just tickets?
We'll also have just tickets available soon if you don't need anything else.