Why buy from Event USA?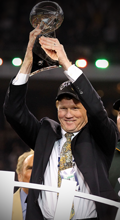 From the desk of Mark Murphy:
As our only Official Game Package Company, Event USA consistently strives to give you the Ultimate Packers Experience for all home and road games! We appreciate your patronage of Event USA and how fervently you support our team in doing so. Tens of thousands of fans have experienced a game last season through Event USA. We hope to see you this year!

Mark Murphy
President & Chief Executive Officer
Green Bay Packers

Shop & Compare
We know you have choices when it comes to arranging for Packer game packages, Packers tickets, tailgate parties and other Packer entertaining. Even online ticket exchanges are selling Packers/NFL tickets at prices greatly inflated over the face price. And there are others who sell tickets in packages—it seems every other sports bar has some kind of Packer package to offer. Some even associate themselves with a former player to try to inspire unwarranted credibility.
Please don't get caught up in the rhetoric. Consider these factors…
Where are you buying from?
We are the only authorized & Official Game Package Company that is selling Packers ticket packages. Is the company who wants your business located in some smoky bar, located far away from Green Bay, or have they just gotten into the business with no track record of reliability? We are a professional agency, in a dedicated facility, about a mile from Lambeau Field, and endorsed/approved by the Green Bay Packers. We have partnered as their official company since 1993. The greatest sports franchise in the world (the Packers) chooses carefully when it comes to those serving their fans. We are the one and only Official Tour Company in the history of the team. Assure yourself of quality & reliability while you support the team by dealing with the official source of the Green Bay Packers! Where do you feel more comfortable?
Why Buy From Us
There are many online ticket exchanges and other companies are now reselling tickets for all NFL games, including Packers games, at prices greatly inflated over the face price. But how do they stack up against us? We sell game tickets as part of packages and have many reasons why our customers will tell you we are the best source.
Better Selection
We have the most/best choices for every Packers game (home or away).
Lower Prices:
In a comparison completed recently, our average game ticket price which is built into our ticket packages was 32% less than what's on a competing marketplace. Why pay more?
Real, Genuine Tickets:
We provide the real, originally issued, hardcopy, keepsake tickets, not the emailable, flimsy paper "vouchers" that some online ticket exchanges use. Anyone can photocopy multiple copies of those tickets and you run the risk not being admitted into the stadium. Try calling the company that issued the ticket on the day of the game because you can't get in—good luck! Why not have original, keepsake tickets, plus at a lower price?
Large Quantities of Tickets All Grouped in the Same Section
We can do that for almost every game and seating category. You normally won't find more than 2 or 4 together or in the same section on other online ticket exchanges. We present lots of opportunities to keep all of your people close by with many choices of seating. Often times we can seat 10, 20, 30, 40 or more.
Need Anything Else?
You can try and piece together a package yourself, but we are specialists at doing that! So, if you need more than just a game ticket, we're here to help. We offer official ticket packages including our Official PFT Tailgate Party, player appearances and receptions, hotel accommodations, transportation, stadium tours, Hall of Fame admission, and much more. None of the ticket exchanges offer any of this. In fact, no other company is even permitted by the Packers to sell packages in this fashion—the Green Bay Packers only entrust this privilege to us.
Support the Team—Buy Official!
We have the finest lodging available & many choices.
We have the greatest choices of lodging for weekend packages. Check out our roster of lodging choices—other companies can only dream of offering such an extensive variety of fine properties.
All "receptions" are not created equal.
Other company's "receptions" might include one drink and a few veggies, chips and dip. Check out our Home Package's food, beverages and amenities—it's a fantastic spread. Treat yourself to the best! There is simply no substitution for our quality.
Want to meet current players/coaches?
Do you want to meet current star players and get their autographs and photos taken at a reception on home game weekends just a few hours before the game? No one else offers this but us. Previous receptions have included such stars as Donald Driver, Mark Tauscher, Greg Jennings, Ryan Pickett, Nick Collins, Mason Crosby, Daryn Colledge, William Henderson, Ahman Green and dozens of others. We provide at least 2 current celebrities at every reception (view > our photos). The team's Chairman Emeritus, Bob Harlan, also stops from time to time at our receptions to greet our fans.
Consider the "Tailgate Party" being offered.
There are lots of tailgate parties. Where is the home game tailgate party you are attending? Is it at some big impersonal sports arena? Our party is just 2 blocks away from Lambeau Field. Those who have attended know it's the best! Compare the food and beverages–we include cajun jambalaya, brats, burgers and mounds of other traditional tailgate goodies with no limit on drinks. We also have the best music, prizes, children's Packers souvenirs, and a virtual carnival of Packer-costumed fans, weddings, dancing and camaraderie. Some parties call themselves "VIP parties." Compare what other parties offer to our Official PFT Tailgate Party and you'll see that our party outclasses them all. So… some parties offer chairs for everyone? If you want a nice quiet sit-down gathering, why not just sit at home?
The Finest Authentic Memorabilia Available
At Event USA, we offer Packers autographed items and provide you with the finest quality and authenticate memorabilia. Many of our packages include gift certificates towards purchase of these historic items. We are pleased to offer our customers the superb quality official autographed items provided to us by Fan 4 Ever and the Green Bay Packers.
What are our customers saying? We're the best!
During the season, weekly we receive dozens of customer feedback messages and letters. View a small sampling of testimonials on our site. We have hundreds more on file.
Buy from us with 100% confidence.
Are you confident that the tickets you receive are legitimate? We have worked for years with the Wisconsin Department of Consumer Affairs to assist them with investigating ticket scams. We are the standard-bearer since 1989. Be careful where you order your tickets and tours!
Event USA stands on its record of providing the most choices, highest quality, unquestioned reliability and best Packer entertainment in the World. Want to know more? Just ask the team's Chairman Emeritus–Bob Harlan–why Event USA has been chosen again & again to represent the Greatest Football Franchise in the World.