Lambeau Field Private Suite (Skybox) Packages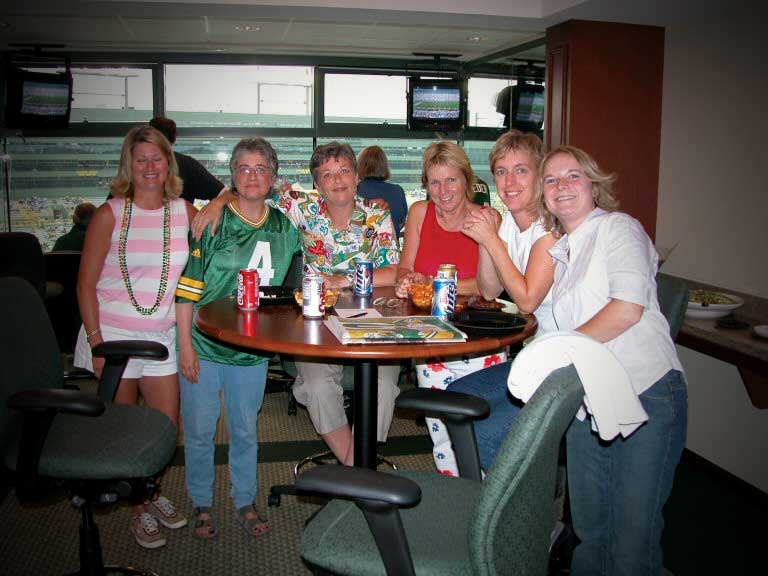 Private Suite (Skyboxes) Packages at Lambeau Field include up to 20 admission passes and various other amenities as listed below.
The suites are located along the sidelines on both sides of the field. These packages also include our 3 hour unlimited food and drink tailgate party located conveniently near the stadium. Food and beverages in the suite are optional and they can be ordered as on add-on from a wide-variety catering menu. Private suites are fully enclosed behind glass. These are sold as full 16-person or 20-person suite packages, sometimes as "half suite packages" and "by the seat". Private Suite Packages are ideal for entertaining business groups, family gatherings, or for hosting private parties – and the perfect way to watch all the action in extreme comfort!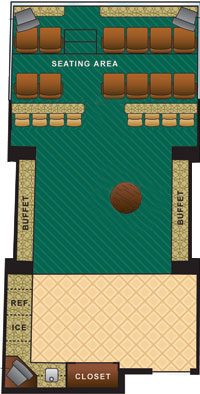 Amenities of Private Suite Packages:
Private Suite Tickets for up 20 people
Great panoramic view of the field
Televisions + TVs within the Suite
Temperature controlled comfort
Theater style seats + chairs
Bar, refrigerator & serving tables
Quick access to restrooms
Access to Stadium Club & Observation Deck
Catering Available
Complete Private Suite Event Planning Services
The Private Suite Packages include all the above features plus a 3-hour pre-game unlimited food and beverage outside Tailgate Party near the stadium as well as other package features which can be customized for your needs. A comprehensive selection of food and beverages is available for purchase at an additional cost. These are among the most luxurious Private Suites in the NFL!
Private Suite (Skybox) Pricing
Date
Opponent
Corner to Endline
Endline to 10 Yd.
10-20 Yd.
20-30 Yd.
30-40 Yd.
Midfield
8/8 - Pre-season - Full Suite-16 passes
Texans
CALL
CALL
$6400
CALL
SOLD OUT
SOLD OUT
8/29 - Pre-season - Full Suite-16 passes
Chiefs
$6400
$6900
CALL
CALL
SOLD OUT
SOLD OUT
9/15 - Full Suite
Vikings
CALL
$20,900
CALL
CALL
SOLD OUT
SOLD OUT
9/22- Full Suite
Broncos
CALL
CALL
CALL
CALL

SOLD OUT
SOLD OUT
9/26 - Full Suite
Eagles
CALL
$17,400
$19,900
CALL
SOLD OUT
SOLD OUT
10/14 - Full Suite
Lions
CALL
$21,900
$22,900
CALL
SOLD OUT
SOLD OUT
10/20- Full Suite
Raiders
CALL

$18,900
$22,900
CALL
SOLD OUT
SOLD OUT
11/10 - Full Suite
Panthers
CALL
CALL
$18,900
$20,400
SOLD OUT
SOLD OUT
12/8- Full Suite
Redskins
CALL
$19,900
$20,900
CALL
SOLD OUT
SOLD OUT
12/15 - Full Suite
Bears
CALL
$22,900
$24,900
CALL
SOLD OUT
SOLD OUT
Please call (920) 722-5377 for more details!
Individual Seating Within a Suite Package If you do not require a full or half suite, you may be able to purchase individual Private Suite admission ticket packages to watch a game in luxury and comfort! This is a great option if you only need a few passes and not a full or half suite package.
Prices shown are per-person admission into a private suite. Food and beverages are not provided in the suite for this price but are available for purchase by the individual user. A pre-game tailgate party is included, however. You will also have access to the exclusive Stadium Club and observation deck beneath the North scoreboard — for use only by Club Seat and Private Suite ticket holders — as well as all the other amenities accompanying the private suite experience at Lambeau Field.
Private Suite (Skybox) Seating View Examples